23. Joseph Chapel
Built in 1884/85(?)
Foundation of the citizens of the town.
Built on the former site of a wayside
shrine. The chapel was restored
from 2008-2010.
The chapel, erected in a neo-gothic style, was donated by the citizens of the city. Prior to this, a wayside shrine was found there. The decision to dedicate a chapel to Joseph was taken in the time during which the veneration of the saint was once again becoming more popular. In 1870, Pope Pius IX declared Joseph the patron saint of the church.
The chapel was built in where the wayside shrine "Jesusbildche" had previously stood. The neo-Gothic building was planned and built by former citizens of Münstermaifel, the master builder Sesterhenn und Söhne from Cologne and the architect Welsch from Munich.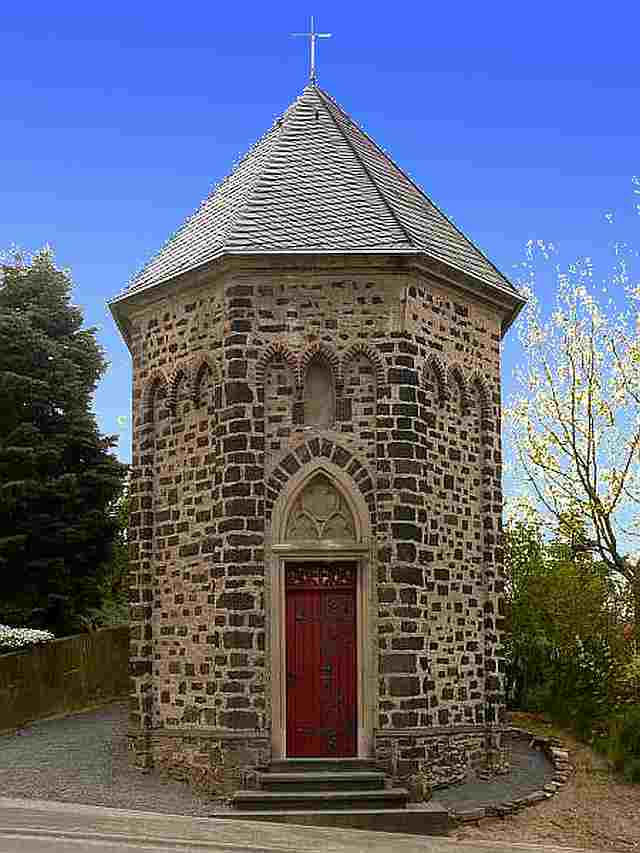 They received support from local residents and craftsmen from the town. The request of a building committee to build a chapel on the site of the burnt down wayside shrine was approved by the town council on 28 January 1881. It was an initiative of Münstermaifelder citizens that had made the construction possible. The decision to build a chapel came at a time when the veneration of St Joseph was once again gaining in importance. Pope Pius IX had declared Joseph the patron saint of the Church in 1870. As a carpenter, Joseph also fitted into the world of thought of the emerging Catholic social doctrine. The Kolping movement found in him a saint to orientate its objectives. It was advantageous for the building project that the "Kulturkampf" came to an end at this time. This eased relations between the state and the Catholic Church. Just in time for the start of construction, Heinrich Jakob Hermes was appointed to the parish in Münstermaifeld after 9 years of forced vacancy. Hermes had been transferred from Waldbreitbach, where he had founded a youth association "Sankt Joseph" in 1877,
Mayor Klöppel (!875-1891), who had declared himself to belong to the Old Catholics in 1877 and had thus positioned himself against the Papal Church, again stated Catholic as his denomination in 1884. The synagogue community succeeded in acquiring a plot of land in 1885, so that construction of the new synagogue could begin. The Joseph Chapel thus also stands for a confirmation of the Catholic character of the city.
The restoration of the chapel in the years 2008-2010 is the achievement of the "Förderverein(s) Stiftung Kulturbesitz Gebiet Münstermaifeld e.V.", founded in 1977. The documentation on the website of the Förderverein bears witness to the efforts made to preserve the chapel's furnishings